IPL+RF hair removal beauty equipment
IPL+RF hair removal equipment Q4000


CE approved, ISO13485, and SFDA
Last but not the least: One-year warranty and lifelong technical service!


Advantage:

1.Double treatment heads (SR,HR),make treatment more targeted.
2.Israel Imported sapphire crystal makes treatment more effective and safer.
3.Multi-function: hair removal, rejuvenation, freckle, cured red blood eliminate.
4.High power and good cooling system.
5.Anti-magnetic ABS case to protect other interruption form environment,making the treatment comfortable.
6.Adjustable cooling temperature,more comfortable and natural.
7.Three Cooling system:water-cooling,air-cooling,Israel semiconductor refrigeration.


The range of treatment:

1 Everlasting hair removal:remove unwanted hairs under arms,on legs ,lips or other body part,etc.
2 Pigmentation treatment:remove various kinds of pigment such as freckle, chloasma,aged spots,sunburn,etc.
3 Telangiectasis treatment:treat angiotelec-tasis.
4 Acne treatment:papule,tuber,blain,acne,etc.
5 Shrink pores,tighten skin,improve skin elasticity and glossiness.
6 Eliminate and smooth wrinkles,acne treatment.


Technical Parameters:

Screen:8.4 inch colorful touch screen.
Power supply:AC220V~10%,5A,50Hz (Or 110V,50/60Hz)
Dimension:51cm*52cm*114cm
Package Size : 63cm*65cm*130cm
First pulse:1-40MS
Firs delay:1-15MS
Assistant pulse:1-40 MS
Assistant delay:1-15MS
Repeat pulse;1-10MS
Repeat delay:1-15MS
Pulse number1-15
Repeat frequency:1S,2S,3S
Spot size:10*40mm
Energy density: 1-50J/CM2
Input power:1000W -2000W
Net weight:37KG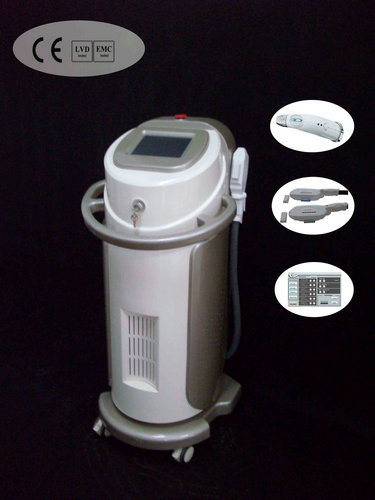 Accessories:.